Drinks
A cold beer is definitely one reason to come to Trail's, but did you know Trail's has 47 different kinds of beer. 11 of them are on tap. We have a variety of beers from local brews to international favorites. We also have a full line of cocktails, specialty drinks and coke products available. You can enjoy your favorite beverage at the bar, in the dining room or on the patio. Happy Hour is from 3pm - 6pm and 9pm - 11pm everyday with $1 off drinks (with a few exceptions).
Food
If food is what you desire, Trail's offers a full menu from appetizers to desserts. The kitchen opens at 11am Monday through Friday. Breakfast is served Saturday and Sunday from 8am to 11:30am. Daily lunch special available Monday - Friday at a great price, and served fast for those on a tight schedule. We also offer a special kid's menu at incredibly low prices, and all menu options are available for pickup or to go (this excludes the 'Trail's Sampler' appetizer and Nachos).
Daily specials are provided at a reduced rate and are intended for dine-in guests only. Weekly specials are not available for to-go orders at this time.

Sports
Watch the big game on one of our 14 T. V's. We have flat panels from 40" up to 110". We offer multiple sporting events simultaneously in high definition.

WiFi
Stay connected with friends and family during the game with our free high-speed internet. Ask your bartender or server to connect.

Pull Tabs
We have pull tabs from 12:00pm to 11:00 pm. Proceeds benefit the Big Lake Knights of Columbus. E pull-tabs are available. Ask your bartender or server to play.
Horse Racing
Every Saturday from 4:30pm to 6:30pm (dependent upon participation)
Meat Raffle
It's grilling time year-round in Minnesota! Who doesn't like meat? Every Wednesday at 5:30pm and Saturday at 2:00pm.

Gift Cards
What's better than the gift of food and drink. Good for any occasion anytime of the year. Stop in for yours today.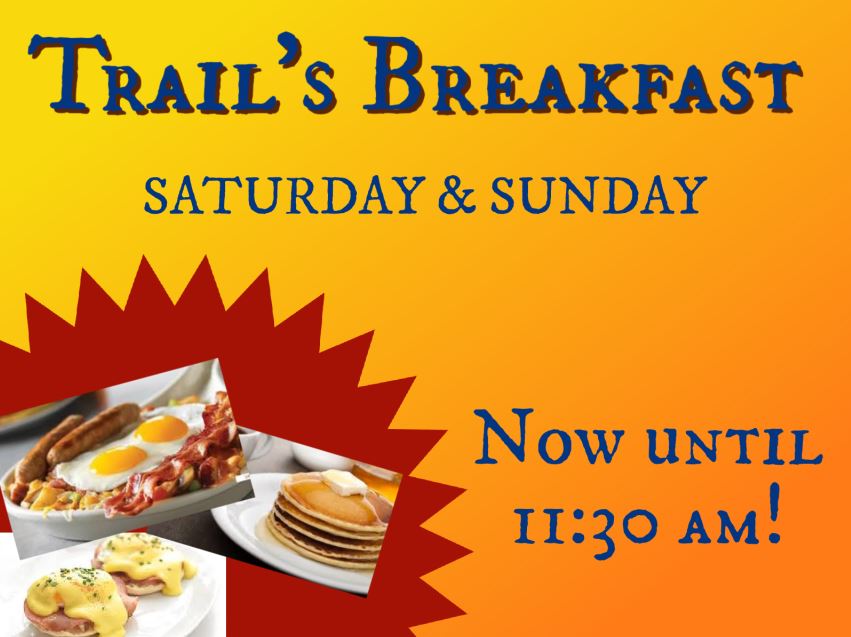 HOURS
MON - WED
Bar: 11am - 11pm
Kitchen: 11am - 9pm
THUR - FRI
Bar: 11am - Midnight
Kitchen: 11am - 10pm
SATURDAY
Bar: 8am-Midnight
Kitchen: 8am-10pm
SUNDAY
Bar: 8am-11pm
Kitchen: 8am-9pm
Breakfast:
SAT & SUN
8am - 11:30pm

Employment Opportunities

Phone #'s: 763-263-0800 & 763-263-0813